Patients & Families
A helping hand for patients and their families on the cancer journey
Omico is committed to helping eligible patients access our genomic testing program and funding support and advocacy for patients taking the decision to participate in our Program.
We are here to help you
If you or someone close to you has been diagnosed with cancer. Omico is here to help. We are a company made up of clinicians, scientists and other highly trained professionals committed to providing genomic insights to help your doctor guide your care.
If you are ready to get started, use the links below to learn more about our tests and avenues for financial support, or to access additional resources. You can also find answers to commonly asked questions.
Patient pathway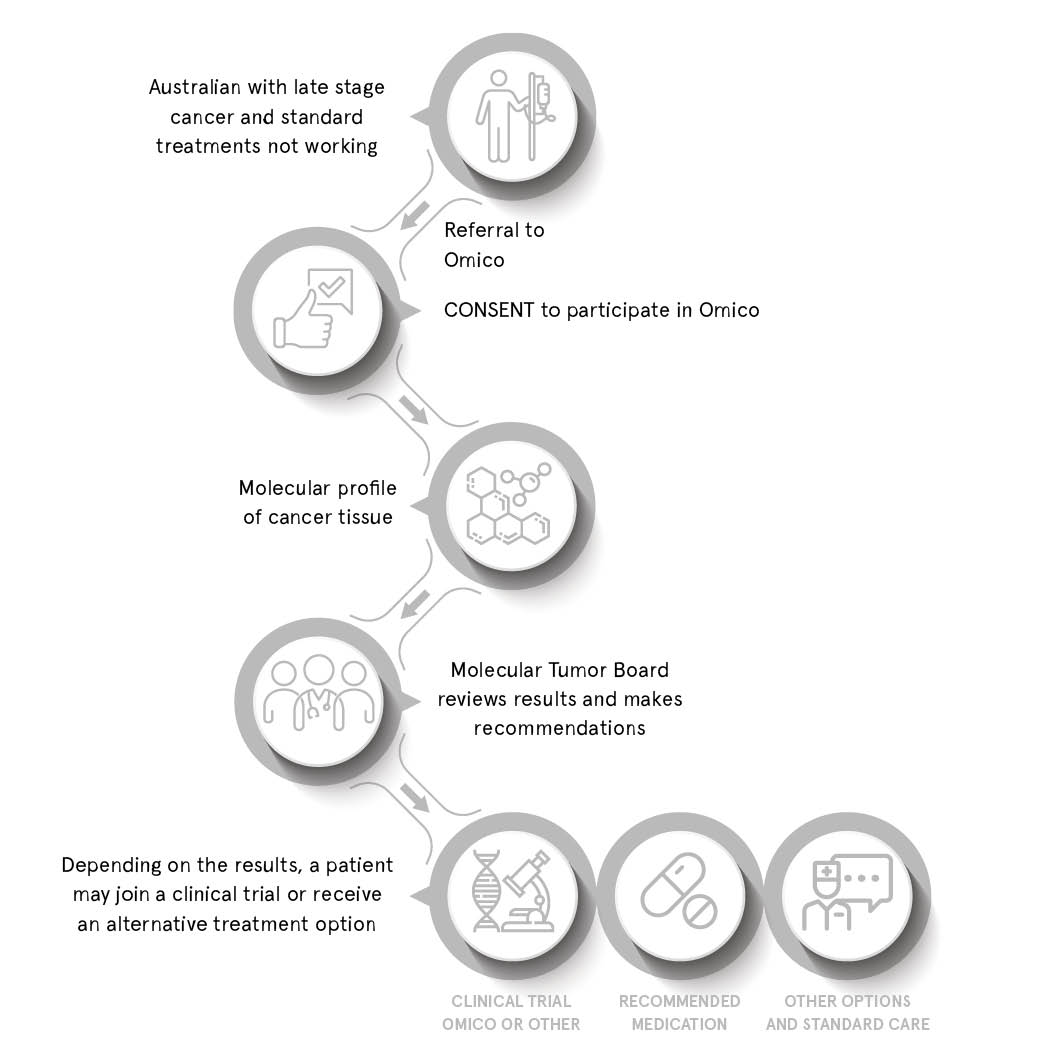 What is tumour profiling?
Molecular profiling or tumour profiling, is a method of testing that finds mutations in the DNA of your cancer that may be causing your cancer to grow. Identifying mutations may help your clinician identify a targeted therapy, immunotherapy or a clinical trial that may be right for you.
Finding information, resources, and a support network
Rare Cancer Australia (RCA) provides support and advocacy for patients taking the decision to participate in our Programs. If you or your family needs a place to learn, someone to listen, help with navigating the journey or advice, RCA can help.
visit the RCA website
If you are 12 – 25 and your world has been turned upside down by cancer, Canteen can provide support and someone to talk to.
visit the Canteen website
The Australian Rare Cancer (ARC) Portal is an online referral service that aims to improve outcomes and access to research for Australians diagnosed with a rare cancer.
Working together with your existing cancer specialist, the ARC Portal offers expert clinical advice, particularly for Australians who live outside the major cancer treatment centres in metropolitan areas.
visit the ARC portal
How do I get onto a genomics testing program?
If you are:
aged 18 years and older, with advanced solid or blood cancer of any type, or are newly diagnosed with a pathologically confirmed metastatic non-squamous non-small cell lung cancer (mNSCLC)
have tissue available for molecular screening or already have a molecular profiling report available
your cancer is not responding to standard treatment or no standard treatment is available
not pregnant, breast feeding or planning to become pregnant, and
out of bed and active at least half of the day
speak to your clinician about our programs.
If you are:
Patients aged 40 years and under who have been diagnosed with a cancer
Patients less than 50 years old who've been diagnosed with two different cancers
Patients diagnosed with three or more cancers at any age
speak to your clinician about joining the RisC program.
learn more about our programs
Our Network
Omico is a nationwide network of research and treatment centres that facilitate, support and promote genomic cancer medicine.
Find a site near you